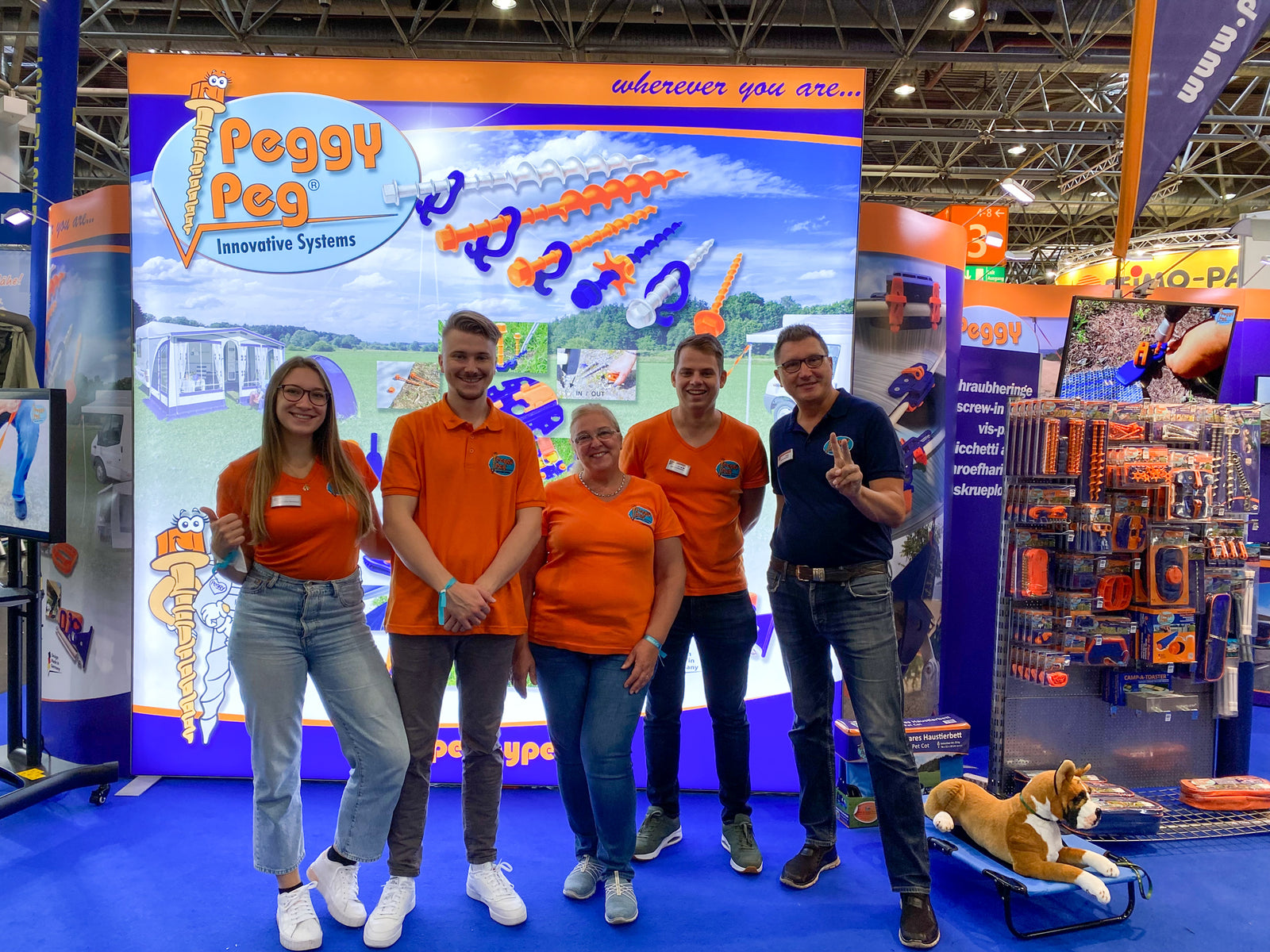 Who and what is Peggy Peg?
Back to Basics
In a poll on Socials a few people voted that they had never heard of a screw peg before and that they were unsure of their purpose. That's why we're going back to basics in this blog post and want to tell you a little about us and the 'screw peg' system, introducing the Peggy Peg Team very briefly.
Who is actually behind Peggy Peg?
We are the Peggy Peg Family.
Our mission
: to replace an ordinary tent peg with a screw-in peg. But not just an ordinary screw, but by our Peggy Pegs, which have unique characteristics which distinguish them from other products out there and prevent your camping equipment from flying away.
However, there is much more behind the system of our screw-in pegs!
Who are we?
Peggy Peg originally started in 2009 in Bavaria, Germany by Brigitte & Achim Reinhold. My name is Samantha Reinhold, and I am the daughter of Brigitte Reinhold and Achim Reinhold.
I have been going to camp ever since I was a baby. By now I also love to go camping by myself and/or with my boyfriend Gerard. Together we have travelled in Australia, and he even went around the whole loop. 
Next to me is my brother Alan. 
In late 2013 Peggy Peg Australia was founded by Peter Brown & Tim Browne.
Since then a lot has changed and the brand has become the market leader in Europe for all sorts of camping accessories. The brand is now found in over 17 different countries worldwide, and we've collaborated with several companies to create a unique range of products.
Recently Gerard and I joined the Peggy Peg Australia team to further assist the growth of the brand in Australia & New Zealand.
Soon we will all introduce ourselves individually.
What is a screw-in peg?
The idea and the system:
In the middle of the picture, you can see our N screw peg. With this peg our idea started.
Actually it is quite simple, if you consider that a screw on tension simply holds much better than a nail!
Unfortunately, there is no universal screw that would cover every soil type. But on the other hand this is because we can call ourselves lucky enough to live on this wonderful earth, on which you can find an incredible variety of soil conditions. 
Due to our hook and the height adjustability, our Peggy's do not have to be completely screwed into the ground. And thus also find their grip in the most diverse soils.
All our screw pegs have a cutting and compressing thread and search their way in the ground to find grip, even passing little rocks. Once the thread grips, you can stop screwing and click the hook onto the peg as close to the ground as possible. Afterwards you can attach your guy ropes and are set. 


The longer pegs are for the looser (very soft, sandy soils, etc). A deeper anchor is also ideal for storm straps. The rule is that the softer the bottom, the longer the screw needs to be. Often this is confused, as it is believed that a longer screw automatically provides better grip. However, you will hardly get into a harder soil with a 32 cm screw.
The small pegs are intended for the eyelets and mud flaps of a tent.
The short, silver aluminium impact pegs is suitable for the extremely hard soils and will only then grip. This is the only peg, which is hammered in with a hammer and later screwed out again.
The complete Peggy Peg system
The picture shows only a fraction of our assortment. In addition to the pegs, we have developed a whole system to secure your awning, tent or camping equipment. 
We even have a product which minimizes or completely eliminates problems like a loud, annoying flapping of the awning when the wind blows underneath the awning cloth. The product is called "Fix&Go AntiFlap".
The Peggy Crocodile on the right-hand side of the photo, allows you to attach your carpet and in combination with the Croc-Adapter (next to it on the photo) you can also hang all sorts of things into your awning rail (sunshade, lamp, towels... etc.).
There is no limitation to your creativity about applications... 
In addition, we have many other products in our range. Feel free to take a look: uk.peggypeg.shop
The advantages of Peggy Peg?
They are extremely light and extremely strong, as they are made of aluminium and fiberglass-reinforced polyamide.
They are very easy to use.
They have a 10x better grip, compared to conventional tent pegs.
They do not need to be completely screwed into the ground due to the hook and height adjustment.
You save time, energy and sweat when setting up and taking down your gear.
Peggy's come with a well-thought-through system which extends into a whole product range
We are looking forward to your questions and suggestions
We always have an open ear for your questions and suggestions about our products. Feel free to reach out to us at: info@peggypeg.com.au

Would you like to know more about the individual torque setting of our screw pegs? Then read here.
---